Railway Enforcement Officer
Job Introduction
Please note that we will be accepting applications for this role up until Sunday 23rd January 2022
As a Railway Enforcement Officer (REO), your role will be to patrol trains and stations to ensure the security of our railway by reducing crime, anti-social behaviour and fare evasion. You will be working in partnership with Revenue Protection Officers and outside agencies to carry out your duties such as large scale ticketing checks at stations. Working in a team, you'll have supportive colleagues travelling with you, and a large number of passengers to deal with in a courteous manner.
You'll be out and about travelling on our trains every day, inspecting passengers' tickets and collecting fares from those who haven't paid. You'll undertake minor crime investigations by seizing and preserving evidence and taking crime reports and statements. You may also be required to prepare and submit written statements of evidence and to attend court to support prosecutions where necessary. All tasks must be completed within company standards and guidelines.
On appointment into a REO role you will be enrolled into the Passenger Services Apprenticeship Programme which will lead to a nationally recognised qualification.
Vetting
This role is exempt from the Rehabilitation of Offenders Act 1974. Applicants must declare all criminal history including arrested, summoned, charged, cautioned or convicted offences including traffic related offences whether as an adult or a juvenile on their application form.
For the purpose of the BTP vetting you will be required to demonstrate evidence that you have been a UK resident for a minimum of 3 years
In addition, successful candidates will be subject to NPPV Level 2 Vetting undertaken by the British Transport Police.
Working here
You will work a varied shift pattern that will include weekends, bank holidays and nights.  Applicants not living locally to the advertised depot are strongly recommended to have their own transport to enable them to meet the shifts requirements.  You may be required to start work as early as 0600 hrs and finish as late as 0200 hrs. Your working rota will be 1 week of early shifts and 3 weeks of late shifts.
Role Responsibility
This is what some of our existing Railway Enforcement Officers have to say....
"Even when issuing a penalty fare it is important to focus on customer service – if someone you've issued a penalty fare to walks away saying "thank you", we know we've done a great job!"
"It's obviously vital that you are able to talk to people too, and adapt to different people in different situations. Treating people with respect and dignity is important and you'll find people respond much better to you if you do this."
"Whilst checking tickets and issuing penalty fares is a big part of the job, customer service is also paramount too. We often find ourselves giving directions, advising on routes and helping out customers."
"On arriving at work each day, you are assigned a partner and a route for the day. You never work alone, always in twos or sometimes larger groups."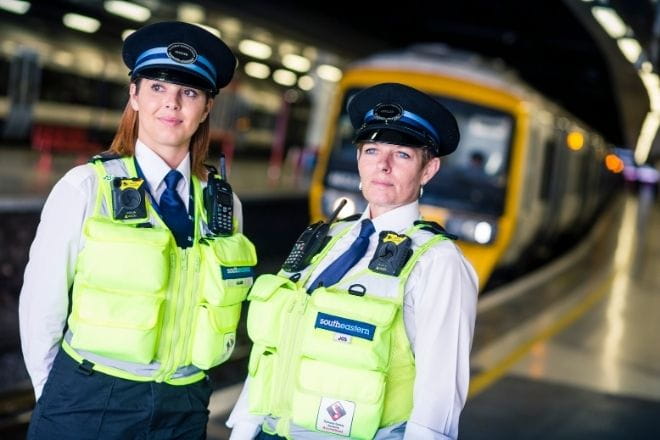 The Ideal Candidate
To be considered for this role you should demonstrate the following in your application:
Good verbal and written communication skills including tact and diplomacy.
Previous experience of working in an environment with a high level of customer contact, ideally where you have had to deal with conflict.
Ability to make sound decision when under pressure.
Assertive resilient and able to remain professional in confrontational situations.
Able to work using own initiative and as part of a team.
Able to evaluate and interpret information in order to make appropriate decisions.
Previous cash handling experience.
You need to live within a 45 minute radius of the station that you are applying for, if you do not live within the required vicinity your application will be withdrawn.  
Package Description
Southeastern recognises the value of every individual employee and offers benefits that reflect this.
As well as a generous salary, we offer an comprehensive benefits package which includes;
A Contributory Final Salary Pension Scheme 
Free rail travel on Southeastern and GTR rail services (extends to family members for leisure/educational travel)
After a qualifying period, reduced rate travel on other train operators, including European services
32 days annual leave entitlement (which includes bank holidays)
Access to an array of discounts for retail and leisure products through our benefits scheme.
Family friendly benefits including enhanced maternity/paternity leave, parental leave and carers leave.
Full training, a nationally recognised qualification and free uniform
About the Company
Southeastern is one of the busiest commuter rail companies in the UK running more than 2,000 trains, and carrying nearly 600,000 passengers every day between London, Kent and East Sussex.
Just over 4,700 employees - mostly from the communities that we serve - work together to provide this vital service and we are looking to expand our successful team. We have a strong set of values that shape the way we run our business and guide our staff in delivering what our customers need. These are:
We aim to be the best
We make the difference together
We care passionately about our people and our passengers
We are committed to being an inclusive employer, creating a workplace where everyone can come to work, feel safe and comfortable and able to do everything to the best of their ability. Read about some of the great Diversity and Inclusion initiatives our Head of Colleague Experience has been leading on here. 
We recognise the positive value of diversity and it matters to us that our teams reflect the communities we serve. We welcome and encourage applications from people of all backgrounds.
We are also proud to be a WORK180 Endorsed Employer for Women. If you would like to know more information about how we are supporting our employees, you can view our policies and initiatives here.
If you have been unsuccessful in the recruitment process for the same/similar position you will not be eligible to apply for a period of 6 months from that date.
All offers of employment are subject to us obtaining satisfactory references (covering all education, training, employment and unemployment in the preceding 5 years and any previous railway employment). We will also complete right to work in the UK and criminal record checks. This is to ensure we are employing the best person for the role and to protect our customers, colleagues and our reputation. We are unable to offer sponsorship to work in the UK.
This post will close before the intended closing date should sufficient number of suitable applications be received. Therefore, if you are interested in applying for this role, we suggest that you do so at the earliest opportunity to avoid disappointment.
Apply